Our founder
Jamie Schmuck
Jamie's lifelong passion for being active was enhanced when he joined the Canadian Armed Forces in 2003 and eventually began strength & conditioning training. He then discovered CrossFit, which provided a structure for his healthy, active lifestyle. He enjoys sharing his experience, knowledge and passion for CrossFit with others. Jamie is a certified CrossFit Level 3 Trainer and has completed countless fitness professional development courses, including Weightlifting, Endurance, Mobility, Gymnastics, Strongman and Judging, as well as Standard First Aid/CPR/AED.
Group Session Trainer, Nutrition Counselling, Personal Training
Rebecca started CrossFit in 2016 and instantly fell in love with it. She enjoys sharing it with others to help them reach their goals and celebrating their accomplishments with them. Rebecca is a graduate of the Fitness and Health Promotion program from St. Lawrence College. She is a Certified CrossFit Level 2 Trainer and holds the CrossFit Kids and Precision Nutrition Level 1 Certifications.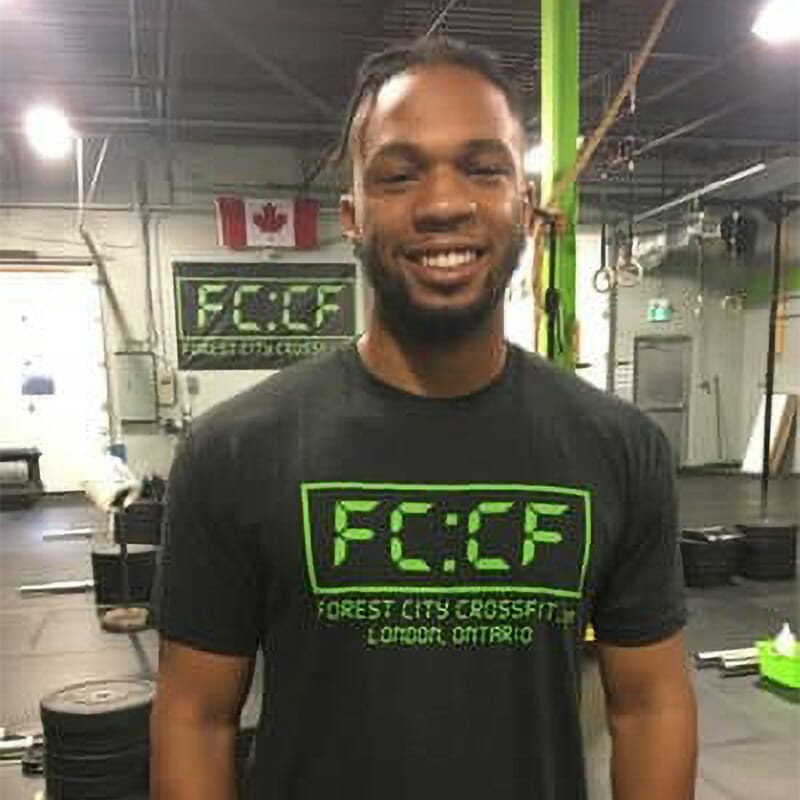 Personal Training, Youth Programs, Group Session Trainer
Carlton has completed Fanshawe's Fitness and Health program and certified as a One-on-One Coach with Two-Brain Coaching and CrossFit Level 1. He is passionate about fitness and has a high enthusiasm for helping people reach their fitness potential. Using a supportive and friendly, but firm coaching style, he pushes his clients hard to get outside of their comfort zone, to experience success. We consider him a walking pep rally! He is great at utilizing his camp counselor and team sports experience.
Counselling and Therapy, Group Session Trainer, Nutrition Counselling, Personal Training
Chloé started CrossFit in 2012 as a means to gain strength and agility for her competitive fighting and Traditional Martial Arts background. Falling in love with the community, the movements and the sport of fitness, CrossFit became her "rock" through tough times, and growth. Sharing health journeys is a passion for Chloé which drove her to achieve her CrossFit Level 1 Trainer and give back to our growing community. Her drive and compassion are also balanced by a healthy competitive edge, always seeking to be "better than yesterday".
Get started
Click the button below to book a free intro. See if Forest City CrossFit is right for you.
Fill out the form below to get started
Take the first step towards getting the results that you want
Free Intro